Overview
Our Amputation Rehabilitation team, led by doctors who are board certified in rehabilitation medicine, focuses on treating patients with amputations. Schwab is one of the only organizations in Chicago with this level of specialization.
Why Schwab?
It's your right to choose where you receive rehabilitation services. Why select Schwab? Because one size does not fit all. Every patient is different, and so is each recovery. But there's one common thread: The sooner you begin vigorous rehabilitation, the better your recovery will be. And, from the moment you arrive, we're focused on helping you maximize your independence.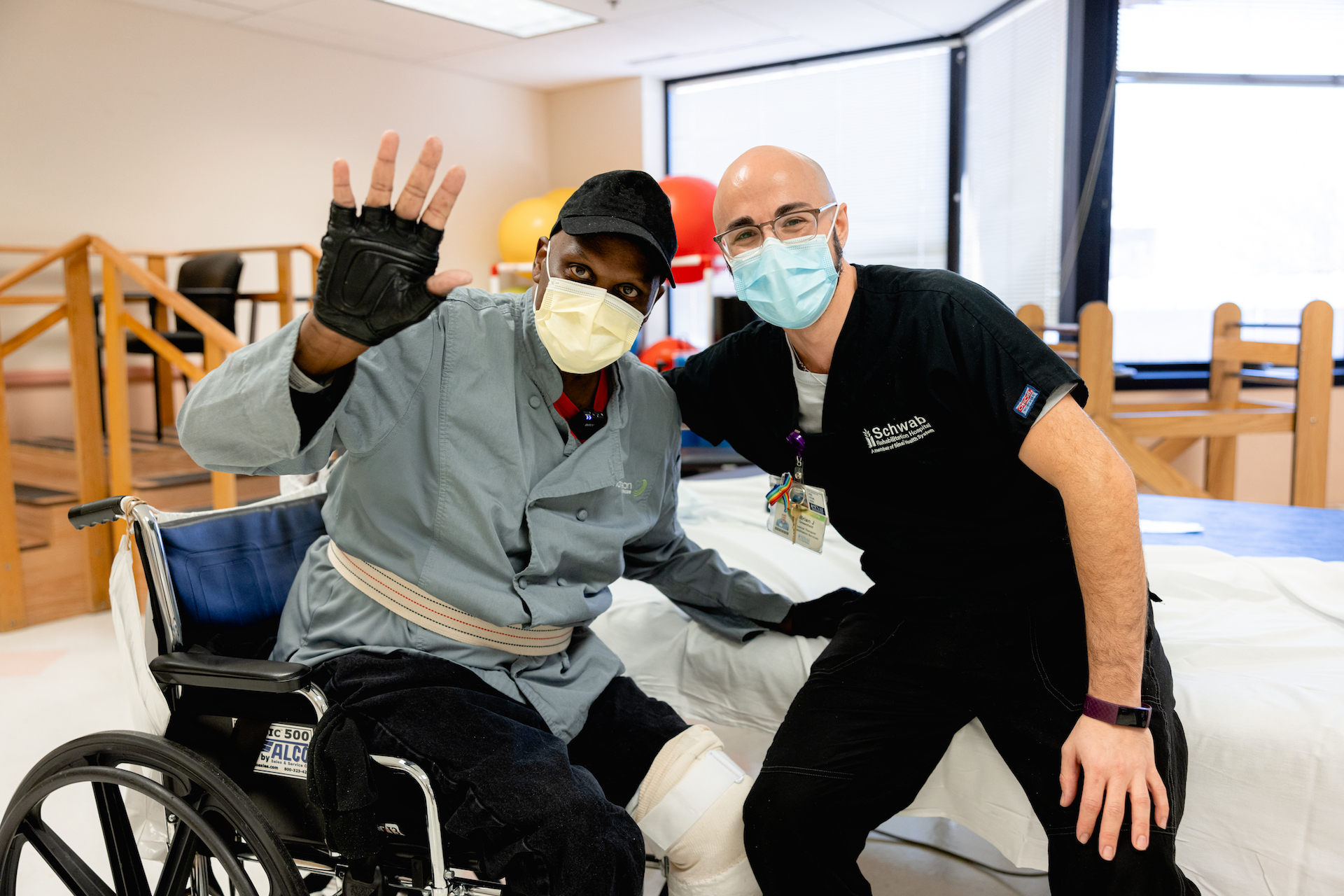 Your Team
Members of your team have advanced knowledge and extensive experience. They've treated thousands of patients with lower-limb and upper-limb amputations, helping each person regain as much function as possible.
Every week, team members meet to review your progress.
Who's on your team?
Board-certified doctors who specialize in rehabilitation medicine
Nurses with rehabilitation training
Rehabilitation therapists (occupational, physical, speech, recreational)
Rehabilitation psychologists
Social workers
Registered dietitians
Peer mentors
Preparing for Independence
We have three customized inpatient therapy gyms that provide safe and nurturing spaces where you can work with your therapists and other clinicians. You'll participate in three hours of combined therapy daily, at least five days a week.
Schwab has specialized rehabilitation equipment and spaces to support your recovery. In our therapy apartment, you'll practice kitchen skills and other everyday activities.
And when you're ready, we'll help facilitate the process of getting a prosthetic (replacement limb) to optimize your mobility.
Maximizing your Potential
Our program is unique because it includes services and opportunities for your lifetime. Using a holistic approach, we concentrate on more than your physical healing. We also address your emotional and psychological needs. Our Peer Mentoring Program provides opportunities for you to talk with people who have also experienced an amputation. The education we provide for your family and other caregivers helps you return home safely and confidently.
Beyond Inpatient Treatment
Schwab provides outpatient programs to help you continue your recovery. Your team will work with you to recommend therapy and services, so you can live as independently as possible.