Who We Are
Schwab Rehabilitation is a freestanding, not-for-profit rehabilitation hospital in the heart of Chicago's West Side. Part of Sinai Chicago's network of hospitals and clinics, Schwab focuses exclusively on intensive rehabilitation, helping those who live in our community return to healthier, more independent lives. We're accredited by the Commission on Accreditation of Rehabilitation Facilities International for inpatient adult and pediatric rehabilitation, as well as by the Joint Commission.
About Schwab Rehabilitation: Sherice's Story
Sherice Wright faced enormous loss when her husband, Irving, was killed in a car crash. She suffered multiple trauma and came to Schwab for rehabilitation. The team at Schwab does what they do best for Sherice – treated her with warmth, care and understanding. Watch the video to hear Sherice's story, meet our medical director, Dr. Gittler, and learn about their common bond they discovered during her inpatient recovery.
The team at Schwab knows that coping with life-altering changes is often a part of recovery. What's it like at Schwab? Click the video to learn more.
Levels of Care
Schwab Rehabilitation offers services to support every stage of recovery after an illness, injury, surgery and other conditions. We're available for everything from a short course of treatment to a lifetime of care.
Inpatient Rehabilitation
People with traumatic injuries or conditions often need continued care after they've been discharged from an acute-care hospital.
If you have an amputation, brain injury, spinal cord injury, stroke or another serious injury or condition, your physician may recommend intensive rehabilitation in a hospital setting. Research shows the sooner you begin, the better and faster your recovery will be.
A team of rehabilitation clinicians who specialize in your diagnosis will work with you and your family to develop a care plan that meets your goals. This specialization leads to excellent patient outcomes and satisfaction.
For inpatient program questions and referral information, call 773.522.2010.
Outpatient Rehabilitation
Schwab Rehabilitation's outpatient programs and services provide specialized rehabilitation for a variety of conditions.
If you've graduated from an inpatient program and are ready to transition to outpatient care, we'll help you continue your rehabilitation journey. We also offer short courses of rehabilitation for people who need focused therapy.
Each program includes levels of care that ensure improved outcomes at every stage of recovery. We'll help determine which is most appropriate for your needs.
To make an outpatient appointment, call 773.522.2010.
Admission Guidelines
Rehabilitation helps you achieve as much physical, cognitive and psychological function as possible as you recover from an injury or illness or live with a chronic condition. Schwab provides both inpatient and outpatient rehabilitation services.
To meet the criteria for inpatient admission, you must:
Need to be seen by a physician five days a week.
Have skilled-level nursing needs.
Tolerate and benefit from a minimum of three hours of therapy at least five days a week.
Require at least two therapy disciplines, one of which must be occupational or physical therapy. Schwab provides occupational, physical, recreational and speech therapies.
We're unable to accept patients who require ventilators, chest tubes, telemetry, plasmapheresis, chemotherapy or high-flow oxygen.
Our admissions specialists will help determine if inpatient rehabilitation is appropriate for you. Call 773.522.2010.
To make an appointment for outpatient rehabilitation, call 773.565.3900.
Amenities
Conveniently located on Chicago's West Side, Schwab is a four-story, free-standing rehabilitation hospital with a mix of quiet and lively spaces. Whether you're staying in the hospital or have a clinic appointment, you will receive excellent care and respectful service.
Here's what you'll find when you visit our facility:
92 inpatient beds
Secure, designated unit for inpatients with brain injuries
Free laundry facilities for inpatients
Social spaces to relax with family and friends
Seven therapy gyms with specialized equipment
Apartment to practice daily living activities
Warm-water therapy pool
Private treatment rooms
Award-winning therapeutic rooftop garden
Vending area with snacks
Parking
Free parking is available in the Schwab Rehabilitation Hospital parking lot at the northwest corner of West Ogden and South California avenues. Overnight parking is not permitted without prior approval.
Security Escort Services
Would you like an escort to your vehicle? Sinai Chicago Security provides escorts for patients and caregivers to and from your vehicle when requested. This free service is provided at all times. To request an escort, call the Sinai Chicago Security Dispatch Center at 773.257.6465.
Our Collaboration with Mary Free Bed
In September 2021, Schwab entered into a professional services agreement with Mary Free Bed, one of the nation's top rehabilitation hospitals. How does this benefit you? It opens more doors to care by simplifying the admissions process and ensuring you transition smoothly between levels of care. Together, we help you get the rehabilitation you need to improve your life.
What We Do
We provide a range of inpatient and outpatient rehabilitation programs and services to help adults and children recover from an illness, injury, surgery or other condition. Schwab is available for everything from a short course of treatment to a lifetime of care.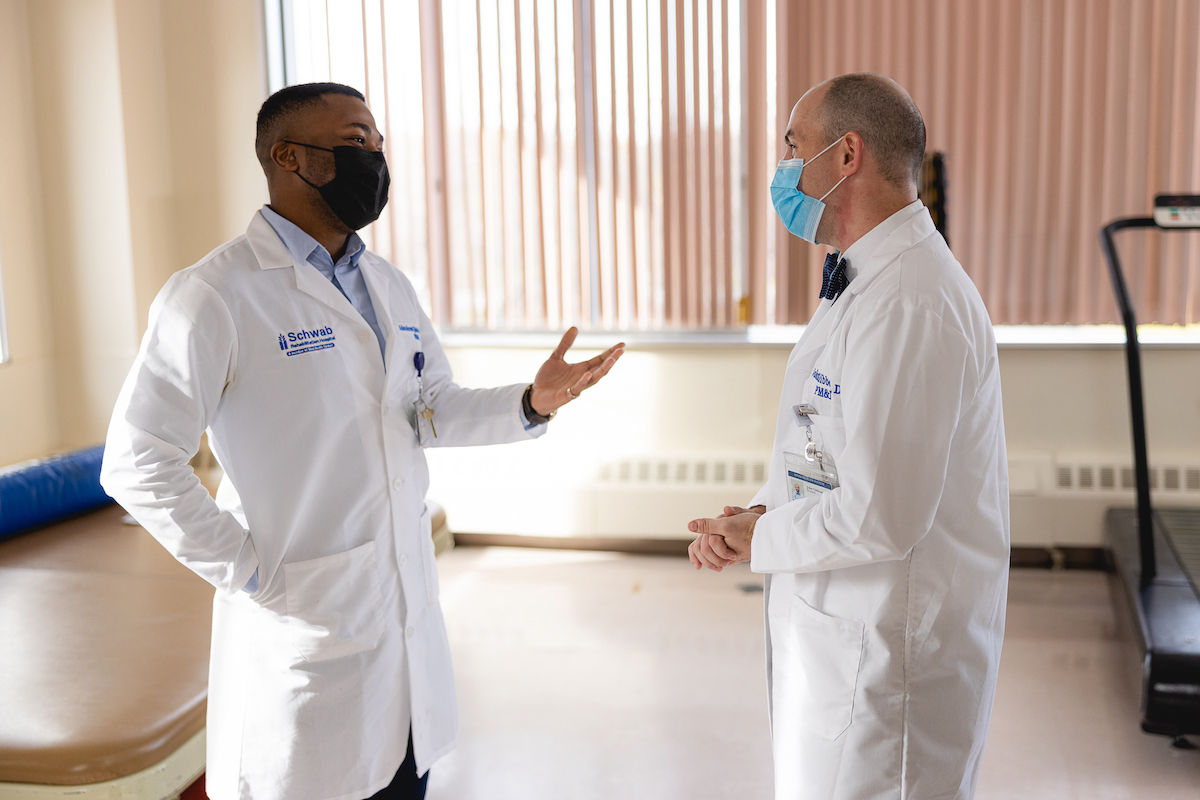 Employees
Schwab Rehabilitation has an exceptional workforce of 300 caregivers, including board-certified rehabilitation physicians, registered nurses certified in rehabilitation. Therapists have specialty training and certification in every major diagnosis we treat.
Everyone who works here is committed to bettering the health of the people who live in our community.
Education and Teaching
Careers
Looking for a job? Join our team of caregivers. Click here.